From Cervantes's Don Quixote and Sancho Panza; the writings on Spain of Alexandre Dumas père; the marvelous English Murray Guides writer, Richard Ford; and the late Americans, James A. Michener, and Donn Pohren, a little-known, but important, American expert on things Spanish, I learned to approach Spain and its wines, food, history, and culture with an adventurous and inquisitive spirit.
The late Donn Pohren.
In 1972, Pohren, who lived in Spain for decades and is one of the world's greatest flamenco experts, published his idiosyncratic underground classic, Adventures in Taste: The Wines and Folk Food of Spain. Pohren wandered around the Iberian Peninsula exploring some of Spain's 4,000,000 acres of vineyard lands, the largest wine acreage of any country in the world, and tasting wines. He would pop into a village bar, ask for a glass of the local vino, then casually ask who made the best wine in town. On several occasions, Pohren would find himself being offered several samples as one vintner after another showed up at the bar with his wines to prove to this foreigner that his vino was the best in the village.
In Adventures in Taste, Pohren described encounter after encounter with artisan winemakers who were making good country wines, many of which were unknown to the outside world in those days. Although Pohren was relatively unsophisticated as a gourmet, he chronicled his food adventures as well, ferreting out great regional restaurants, back-country inns and taverns, and tapas bars all over the country. He wrote about the best places for great roast lamb in Castile; the superb mountain hams from acorn-fed, free-range Iberian pata negra pigs of southern and western Spain; great fish and shellfish along both the Atlantic and Mediterranean coasts; garlic chicken in Madrid; and such esoteric specialties as baby goat livers in lemon sauce in the mountains of Malaga, and. Pohren not only wrote about the food, wine, customs, and fiestas, each year he ran several specialized tours, in which he introduced a handful of privileged travellers to his secret places in back country Spain.
During the eight years I lived in Spain, I traveled with Pohren's book and with James A. Michener's Iberia (my copy of Iberia is signed by more than 20 of the characters about which Michener wrote). I often drove many kilometers out of my way to find Pohren's culinary and wine treasures and to search out the people and places about which Michener had so persuasively written. While following in the footsteps of these predecessors, I naturally had my own adventures. I began to uncover exceptional wines, experience my own unique gastronomic epiphanies, meet unforgettable people, and discover places about which neither Michener nor Pohren had written.
The writings of Richard Ford, an Englishman, who covered much of Spain on horseback during the 1840s also inspired me. Ford wrote one of the most well-written and witty travel guides I have ever read, A Handbook for Travellers in Spain and Readers at Home (ironically republished by my home university's Southern Illinois University Press, Carbondale, Illinois; ©Centaur Press, Ltd. 1966). Ford's frontispiece further billed the book as "Describing the Country and Cities, the Natives and Their Manners; The Antiquities, Religion, Legends, Fine Arts, Literature, Sports, and Gastronomy with notices On Spanish History."
Ford described his travels in Spain pithily, provided his readers with often humorous insights about Spaniards, many of which still hold true, and imbued his writing with a sense of adventure that has long inspired me to continue embarking on what he called, "those wild and weary rides through tawny Spain."
Wine and food are the threads that will bind the tapestry of A Traveller in Wines: Fifty Years of Adventures on the Food & Wine Roads of Spain, but I intend for the book to have a much broader appeal. Although I plan to concentrate on wine and gastronomy adventures, like Ford, Michener, and Pohren, I will draw from the broader spectrum of Spain's rich heritage, history, and culture to make A Traveller in Wines a great read about the country, its people (and, like Michener, sometimes the foreigners who love it), its vineyards and wineries, its tapas bars and restaurants, and its winemakers and chefs.
I am fond of quoting two passages about Spain—one from Richard Ford and the other from Alexandre Dumas père—which are in the spirit of the approach I want to bring to my book. Ford's passage is about the philosophy of travel and life; Dumas's is evocative description.
In A Handbook for Travellers in Spain, Ford wrote his philosophy on traveling in Spain: "The search for the excellent is the high road to excellence . . . The refining effort and habit teaches the mind to think; from long pondering the beautiful world without, snatches are caught of the beautiful world within, and a glimpse is granted to the chosen few, of glories hidden from the vulgar many. They indeed have eyes, but see not . . ."
It will be my task in A Traveller in Wines to share those glimpses with those who may not have been able to see Spain for themselves and provide deeper insights for those who have been to Spain.
Alexandre Dumas wrote some fine descriptive passages about his travels in Spain in From Paris to Cadiz, including this quote, which is one of my favorites, "People talk of the glorious dreams of opium-smokers, the frenzied exhilaration that hashish can give, but I, who have studied both, assure you that neither can for a moment compare with the delirious joy of fifty or sixty Spaniards applauding a dancer in the upper room of a café in Seville!"
Manolo Esquivias and his wife Mari Carmen Onrubia dancing at la Feria de Sevilla.
Dumas's quote alludes to the duende that Lorca wrote about, a magical quality in the Spanish spirit that I have been lucky enough to encounter on numerous occasions in my travels.

Gerry Dawes©2020 gerrydawes@aol.com
Shall deeds of Caesar or Napoleon ring
More true than Don Quixote's vapouring?
Hath winged Pegasus more nobly trod
Than Rocinante stumbling up to God?
Poem by Archer M. Huntington inscribed under the Don Quixote on his horse Rocinante bas-relief sculpture by his wife, Anna Vaughn Hyatt Huntington,
in the courtyard of the Hispanic Society of America's incredible museum at 613 W. 155th Street, New York City.
_____________________________________________________________________________________________________________________________________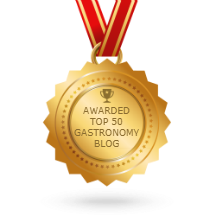 In 2019, again ranked in the Top 50 Gastronomy Blogs and Websites for Gastronomists & Gastronomes in 2019 by Feedspot. (Last Updated Oct 23, 2019)
"
The Best Gastronomy blogs selected from thousands of Food blogs, Culture blogs and Food Science blogs in our index using search and social metrics. We've carefully selected these websites because they are actively working to educate, inspire, and empower their readers with frequent updates and high-quality information."

36. Gerry Dawes's Spain: An Insider's Guide to Spanish Food, Wine, Culture and Travel
About Gerry Dawes
My good friend Gerry Dawes, the unbridled Spanish food and wine enthusiast cum expert whose writing, photography, and countless crisscrossings of the peninsula have done the most to introduce Americans—and especially American food professionals—to my country's culinary life." -- Chef-restaurateur-humanitarian José Andrés, Nobel Peace Prize Nominee and Oscar Presenter 2019
Gerry Dawes, last year, was the Producer and Program Host of Gerry Dawes & Friends, a weekly radio progam on
Pawling Public Radio
in Pawling, New York (streaming live and archived at www.pawlingpublicradio.org and at www.beatofthevalley.com.)
Dawes was awarded Spain's prestigious Premio Nacional de Gastronomía (National Gastronomy Award) in 2003. He writes and speaks frequently on Spanish wine and gastronomy and leads gastronomy, wine and cultural tours to Spain. He was a finalist for the 2001 James Beard Foundation's Journalism Award for Best Magazine Writing on Wine, won The Cava Institute's First Prize for Journalism for his article on cava in 2004, was awarded the CineGourLand "Cinéfilos y Gourmets" (Cinephiles & Gourmets) prize in 2009 in Getxo (Vizcaya) and received the 2009 Association of Food Journalists Second Prize for Best Food Feature in a Magazine for his Food Arts article, a retrospective piece about Catalan star chef, Ferran Adrià.
". . .That we were the first to introduce American readers to Ferran Adrià in 1997 and have ever since continued to bring you a blow-by-blow narrative of Spain's riveting ferment is chiefly due to our Spanish correspondent, Gerry "Mr. Spain" Dawes, the messianic wine and food journalist raised in Southern Illinois and possessor of a self-accumulated doctorate in the Spanish table. Gerry once again brings us up to the very minute. . ." - - Michael & Ariane Batterberry, Editor-in-Chief/Publisher and Founding Editor/Publisher, Food Arts, October 2009.
Pilot for a reality television series
on wine, gastronomy, culture and travel in Spain.
If you enjoy these blog posts, please consider a contribution to help me continue the work of gathering all this information and photographs for Gerry Dawes's Insider's Guide to Spanish Food, Wine, Culture and Travel. Contributions of $5 and up will be greatly appreciated. Contributions of $100 or more will be acknowledged on the blog.

* * * * To make your contribution, please click on

this secure link to Paypal.* * * *